Jeanette McDonnell

Chartered Physiotherapist

M.I.S.C.P., BSc. Physio.,. PT (USA)

Jeanette McDonnell

Jeanette McDonnell is Proprietor of BACK IN ACTION Physiotherapy and Sports Injury Clinic. Jeanette is a member of the Irish Society of Chartered Physiotherapists. She graduated from Queen Margaret College in Edinburgh in 1991. Since then she has gained experience in many areas.

She initially worked in Ireland for 3 years. She then emigrated to California, USA in June 1994 having taken the California State Board Exams.

In California, initially she worked in Arcata, in Humboldt County, Northern California. She worked in all areas of physiotherapy including inpatients, outpatients, wound care, Home health (community), Outpatient Clinics and in a satellite clinic located in Willow Creek attending to a small population of native Americans living on reservation there.

2 further years were spent in San Francisco working in Agencies, hospitals, and Finally after her last year with Occupational Health Clinic, she returned to Ireland.

Jeanette returned to Ireland in 1999. She started working with HSE in hospitals in Westmeath/Longford area. This included Longford town, Mullingar, Athlone and primary care in Ballymahon before beginning private work.

After return to Ireland, Jeanette has completed a number of courses. Among these included Dry Needling technique, Pilates instructor, Orthotics prescription.

Dry Needling technique which enhances physiotherapy techniques. It releases muscle tension and reduces pain by breaking pain cycle.

Pilates is a popular choice for rehabilitation after physiotherapy treatments for back /neck pain and many other complaints. Pilates focuses on the strength and stability of specific muscle groups. It is suitable for all age groups and fitness levels.

Jeanette previously worked in her private practice from her home in Abbeylands from 2002. As the clientele increased, she found the need for a larger premises.

In June 2006, BACK IN ACTION PHYSIOTHERAPY & SPORTS INJURY CLINIC was opened in Market Point Medical Park, Mullingar.
Paul Reape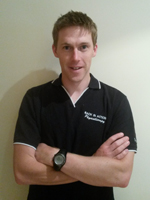 Paul graduated from the Robert Gordon University in Aberdeen in 2013 with a Bsc (Hons) Physiotherapy Degree after having returned to college as a mature student. He is now a fully Chartered Physiotherapist with current membership of the Irish Society of Chartered Physiotherapists.
Over the last 3 years, Paul has worked in both private sports injury clinics, working with University sports scholarship students and the National Health Service in Scotland where he mainly focussed on Musculoskeletal Physiotherapy. Paul has also spent some time working with the Scottish Water Polo menís senior team at the Commonwealth Championships in 2014 while also working with local rugby teams throughout his time in Aberdeen.
Since graduating, Paul has continued his professional development by completing many extra courses including Dry needling/Medical acupuncture, A Diploma in Sports Massage, Rocktaping, Sports First Aid and Pilates, which he now teaches in the clinic.
Outside the clinic Paul has a very keen interest in all sports, having played football, hurling, soccer and golf and is now focusing on Running and Triathlon, where he has represented Ireland at both the European and World age group championships in 2009 and 2010.
Patryk Tylski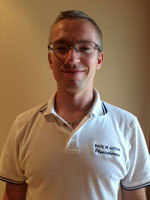 Patryk Tylski graduated with MSC Physiotherapy from the University of Rzeszow in Poland.
There, he worked in health care centre and a professional football club. He is experienced at: Musculoskeletal injuries, sports injuries, orthopaedic, post-surgery and neurological physiotherapy. In treatment, he uses only most efficient and best methods. Every year, Patryk attends special, professional courses to gain new skills and knowledge which bring benefit for his patients.
Patryk used to be a football player and was very close to become a professional. Unfortunately, he got injured and doctors said that he required surgery. Since this event he got more involved in physiotherapy. Fifteen years has gone by, but he never had the surgery...
He says: "There is always a way, just someone has to show you".