Women's Health
Pelvic Physiotherapy - a successful approach to treating Pelvic Dysfunction
One in three women bladder or bowel control problems at some time
Up to 15% of women suffer from internal pelvic pain
Approximately 50% of women have low back or pelvic pain in pregnancy 20% of women have Pelvic Girdle Pain in pregnancy
Routine Ante & Post Natal Physiotherapy
The Antenatal Period
Pelvic Floor Exercises – learn how to do a correct pelvic floor contraction. According to research 50% of women don't perform pelvic floor exercises correctly.
Antenatal Pilates – optimise your posture and fitness in preparation for labour. Classes are taken by Chartered Physiotherapists.
Treatment of Pelvic Girdle Pain (PGP) and Back Pain in Pregnancy – PGP and Back Pain can be treated successfully with manual therapy and exercise throughout pregnancy.
The Postnatal Period
Consider having your pelvic floor routinely checked after childbirth as muscles often become imbalanced and recovery may not be optimal. Did you know - in France the State provides 10 physiotherapy sessions for every woman after every baby?!
Twelve to 16 weeks after childbirth the pelvic floor should be functioning normally, if not you may need assessment and treatment by a Chartered Physiotherapist in Women's Health.
Pelvic Girdle Pain – After childbirth PGP should settle down quickly. If it does not you may have a pelvic asymmetry, which if left untreated will often come back on future pregnancies and return to fitness will be significantly delayed.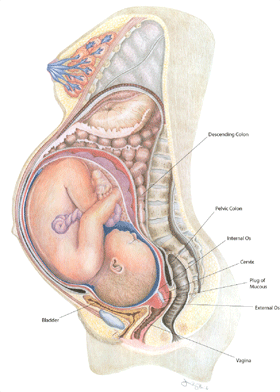 When Things Go Wrong
The following symptoms may be present immediately after childbirth or come on years later. They can be present in teenage girls to women past menopause and are NOT always related to childbirth.
Unresolved Pelvic Girdle Pain can mean:
Chronic pain in the pubic symphysis, sacroiliac joints and surrounding muscles
Difficulty walking, managing activities of daily living or caring for your baby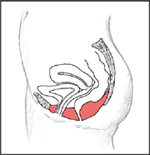 Damage to the Pelvic Floor can cause:
Bladder urgency or urge incontinence
Stress urinary incontinence e.g. with cough or sneeze
Frequency of urine
Bowel urgency or incontinence of stool
Childbirth or even Chronic Constipation can lead to:
Bladder descent; the front wall of the vagina comes down
Rectal wall descent; the back wall of the vagina comes down
Uterine descent; the uterus comes down
Chronic Pelvic Pain can come on with no apparent cause or can be secondary to trauma, there are many different types:
Perineal Pain or Vulvodynia; both external in presentation
Pudendal Neuralgia; a nerve related pain, can be internal or external
Overactive Pelvic Floor Disorders; vaginismus, anismus or rectal pain, where the muscles of the pelvic floor are too tight.
It is important to be seen by a Chartered Physiotherapist with a special interest in treating conditions related to Women's Health. Conditions that are left untreated will naturally deteriorate over time as muscles and other soft tissue shorten and tighten around the dysfunction.